Dear Friends,
We have developed the Address Autocomplete by Google add-on that helps your customers quickly fill in the shipping and billing address at checkout.
Use our add-on for easy integration with Google Maps API features. Once you have installed the Google Autocomplete add-on you can easily enable the address autocomplete feature on the special checkout field in your store. It will save time and prevent typing errors.
Key features
With Google Autocomplete add-on you will able to:
— Simplify the checkout process by offering address autocomplete.
— Add a Quick address search field based on Google Places API to your checkout page.
— Allow your customers automatically fill in the address form fields, such as address 1, city, region/state and postal code.
— Avoid customers' typing errors.
— Improve the website usability and enhance user experience.
How it works
As all Google Maps JavaScript API applications require authentication you need to get an API key. Please visit this page to know how to get the API key. You should place you API key on the settings page of the add-on.
If you enable the "Show a bar for quick location search" setting on the settings page, your customers will see a new field for quick address search above the address field on the checkout page.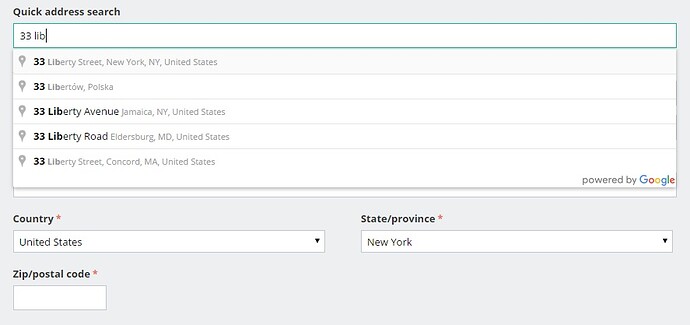 When a user starts typing an address, autocomplete will fill in the rest.
That's all! This simple and easy to use extension will help you to improve customer experience.
User Guide
Learn more about the add-on in the User Guide.
Compatibility
The add-on is compatible with CS-Cart and Multi-Vendor 4.3.5 and above. Need compatibility with another CS-Cart version? Contact us now.
I will be glad to answer all your questions about the add-on.
P.S. Join us on Facebook to have a chance to be the first to know about free solutions for your store and information about special promotions and discount promo codes.